Property Management Success: New Formulas for the New Office
Commercial Property Executive
By Gabriel Frank, Associate Editor with Multi-Housing News and Commercial Property Executive
First published on Commercial Property Executive
Features and strategies that were once considered extras are now necessities for success.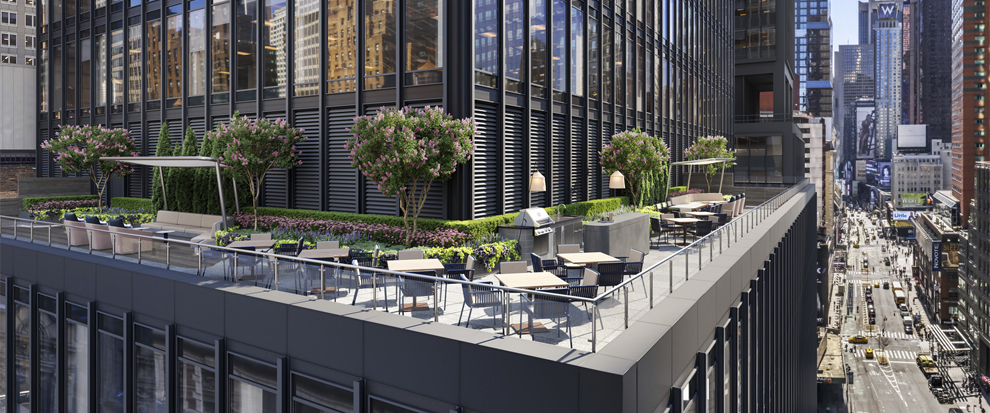 In order to attract and retain tenants in an environment rocked by revolutionary change, the office sector has had to adapt quickly. The much-discussed challenges include high vacancy rates, hybrid work models, shrinking tenant footprints and an amenity arms race.
On the property management front, this translates to re-establishing the office as a destination worth the commute and an experience that cannot be replicated elsewhere. Property managers also have new strategies to reach that goal: an even greater focus on initiatives that emphasize wellness, productivity and sustainability.
A rapid evolution
For many property managers, making office spaces lively and engaging is not a new goal, but there are new methods for reaching it. First steps include identifying what the tenants want to get out of their in-person work experience, recognizing that the hybrid model is here to stay, and that office settings must actively compete with remote work.
These trends have accelerated since the start of the pandemic, often leading tenants to defer lease renewals. "We observed that tenants would communicate a return to office target date, forecast that timing and those dates would come and we would only have tenants push those out further," observed Brenden Welch, managing director of property management at Bridge Commercial Real Estate. "That is not new—we have seen a lot of companies transition to hybrid."
"What we are seeing is that to motivate employees to come to the office, you need to provide them with an environment that they cannot easily replicate at home," said Daniel Domb, a managing member at Rockpoint. Amenity offerings such as fitness centers, dining spaces and lounges, once seen as investments to enhance a space's market value and asking rents, have turned into necessities for a space's survival. "Before, we were doing it so we could get top-of-market rents. Now, you need to do it if you want to maximize potential to lease space," Domb added.
Observation and communication
To stay competitive in these areas, property managers need to not only make their offerings as up-to-date as possible, but to effectively communicate their purpose. "Quality of life … is number one for workers, and number two is health and wellness," reported Randy Fink, managing director for JLL Property and Asset Management.
Other observations go beyond the very idea of work itself. The very act of working in-person and collaborating with one's team produces experiences that are irreplaceable in any meaningful way. "The workplace remains a crucial element, not only for its on-site services and productivity-enhancing features but also for its role in personal and professional growth," explained Whitney Burns, senior vice president of Global Client Strategy at Hines.
The observations on both Fink and Burns' parts has led to the firms prioritizing direct communication efforts at their properties. "We can't take the obviousness of what the (buildings) can offer to employees for granted, and so we have had to double down on communication," Fink said. Taking such a step might push some team members out of their comfort zones. Typically, property managers interact mostly with facility managers, office managers and local executives. Increasingly, however, those stakeholders "have asked us to talk to employees directly about what is going on at the property that is worth being there," Fink reported.
Consequently, the firm has taken to engaging directly with occupants, alongside human resources departments to communicate events at the spaces. In turn, employers are able to use events at the spaces, such as happy hours and social programs such as ways of both fostering collaboration and community in employees. For Fink's team, this has led to an increased appreciation for how amenity spaces are used. In the case of a fitness center that doesn't offer classes or other social activities, or a lobby with plenty of seating but no free coffee, "it's about making sure that there is some kind of crew structure to make sure that the spaces and amenities are activated," he added.
At Terraces at Central Perimeter, a two-building office campus in Atlanta, the firm used the property' expansive outdoor spaces, a highly sought-after offering, to host carnivals with food trucks. The result? "We had a full building on a Wednesday afternoon, and the tenants organized around it as well."
Hines has taken a similar approach to JLL, communicating directly through newsletters, tenant engagement applications, social media and emails to make sure that tenants are in the know about the happenings at their spaces. Reflecting upon this shift, Burns said, "This narrative shift shows that we're not just a workspace; we provide the platforms for growth, mentorship, and community engagement that today's professionals crave."  To this end, the firm does not only showcase its amenity spaces in its marketing, but its mentorship opportunities and event hosting.
Where this appeal is concerned, other firms have turned to the proptech development realm. As part of its efforts to bolster occupancy and engagement at its properties, Bridge Commercial firm has developed BridgeEngage, a mobile and desktop-capable application that keeps tenants and employers in the loop about site-specific events and amenities, as well as community content and retail options. "It's another tool the helped us engage with the population around building activities, as well as the things we are doing at the properties themselves," Welch detailed.
Visual importance
To this end, the act communicating the appeal of a given office space is only one part of the puzzle. The amenity offerings themselves must be both inviting and visually appealing for prospective and current tenants. Here, the communication lies in the visual. "With both (new and prospective) groups, we want to showcase physical space that allows a collaborative working experience with unique building amenities alongside technological improvements that might motivate a tenant to upgrade its current office or lease space in one of our properties for the first time," Domb detailed.
At 1700 Broadway, a 42-story office tower in the Columbus Circle district of Manhattan, Rockpoint renovated the entire lobby during the pandemic, a recent development in the long line of upgrades. Other fixes that the firm made to the property following its acquisition in 2018 include a lounge, multi-use amenity bar, rooftop terrace and fitness center. At present, the space's occupancy rate sits at 92 percent.
Visual appeals also extend to the function of a space, something highly specific to the needs of different tenants. Like the direct outreach involved in marketing, so too is the process applicable to making sure tenants have their desired space layouts, on top of the ability to work as productively as possible. Here, a case-bycase approach is the most effective, according to Zac Gruber, president of the office division at Banyan Street Capital. "It boils down to the leasing teams spending the time to really understand the tenant's needs, drawing trends and spending time with the data to ensure that they are seeing every prospect and that your available space shows as well as it possibly can," he told Commercial Property Executive.
Working priorities
However, Marketing office space and appealing to tenants goes beyond amenity offerings and events. An equally important priority towards driving occupancy is in a space's functionality and layout, the actual ability to work within it. Such functionality recognizes the reality of hybrid work.
First and foremost, the offices need to adapt to the reality of hybrid work, and that should not come at the expense of productivity. "You have to have the video conferencing capabilities, you have to have the flexible technology that allows them to operate their businesses," Domb added. Making sure that every inch of the property has a stable internet connection, alongside the best remote work applications, is a must.
Often, this can involve costly upgrades. "In conference rooms and meeting spaces that were set up with presentation technology for in-room meetings, we had to make sure that there was sound for larger meetings, as well as the ability to present a screen for content," Welch noted. Many spaces have been equipped with video technology that can meet the demand for virtual meetings, he added.
Ultimately, the  combination of experience, socialization and functionality in office spaces has presented a solution to some of the struggles that the sector faces. "(It's a) strategic opportunity. Employees are looking for connections, productivity and purpose, employers are looking for productivity and collaboration inside of an office space," Fink concluded.