Rockpoint to Develop Trophy Infill Industrial Site in Broward County Along With The Cordish Companies and Caesars Entertainment
Establishes Footprint in Supply-Constrained South Florida Industrial Market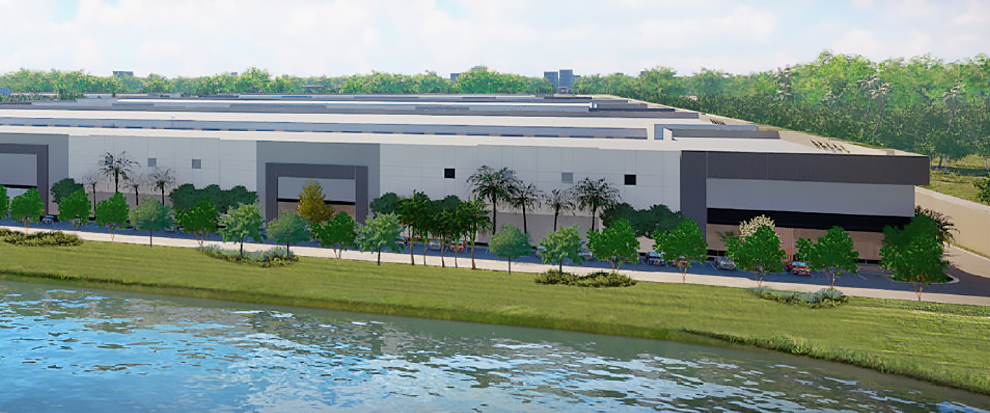 Boston, November 9, 2023 – Rockpoint, a Boston-based real estate private equity firm, today announced it will develop a trophy industrial site in the Pompano Beach submarket of Broward County, Florida. Rockpoint will develop the property with The Cordish Companies and Caesars Entertainment as part of a larger master plan. Today's announcement gives Rockpoint a significant presence in the supply-constrained South Florida industrial market and builds on the firm's strategy of acquiring industrial facilities in high barrier to entry locations across the U.S.
The development, which sits on an 87.8-acre site and will include approximately 1.5 million square feet of rentable space, is located just 20 minutes from downtown Fort Lauderdale and 40 minutes from downtown Miami and downtown Palm Beach. It represents one of the last remaining infill trophy development sites of its size in South Florida, a region which continues to experience significant industrial rent growth due to ongoing supply constraints and consistently high demand for space.
The site is part of a much larger 223-acre development called The Pomp which The Cordish Companies and Caesars Entertainment are developing as a transformative mixed-use destination. The Pomp is one of the largest and most dynamic mixed-use developments in South Florida featuring more than 10 million square feet of best-in-class entertainment, hospitality, retail and residential uses. Anchors such as TopGolf will be opening shortly and development of Live! at The Pomp is underway.
"Rockpoint is pleased to work with Cordish and Caesars in transforming this strategically situated multi-hundred-acre site as part of the master plan," said Tom Gilbane, Managing Member at Rockpoint. "This investment provides Rockpoint with an opportunity to deliver a unique industrial property in an important and undersupplied market. Despite an overall sense of caution with respect to new investments in the current capital markets environment, we are excited about this opportunity given the attractiveness of our basis combined with significant rent growth that Broward County is experiencing as a result of historically low vacancy levels coupled with continued high demand."
"As progress continues across every facet of The Pomp, we are thrilled to work with Rockpoint on the industrial component of this game-changing project," stated Corey Long, VP of Development at The Cordish Companies. "Rockpoint is one of the premier real estate companies in the United States. Today's announcement continues our commitment to deliver a transformative, best-in-class development for the City of Pompano Beach and South Florida."
Site work for the project is expected to start in May 2024, as phase one of a three-phase development timeline. Rockhill Management, Rockpoint's dedicated property services affiliate, working with The Cordish Companies and Caesars Entertainment, will lead the development and management of the project.
About Rockpoint
Rockpoint is a real estate private equity firm that employs a fundamental value approach to investing, targeting select product types and markets throughout the United States. The firm applies a consistent and disciplined investment approach across its investment programs, which span distinct return profiles. Rockpoint continually assesses the market opportunity and evaluates potential investments relative to intrinsic value and cash flow, targeting investments that Rockpoint believes are inefficiently priced or misunderstood by the broader market. Rockpoint proactively pursues opportunities that exhibit strong value potential that can be realized through impactful asset management. Since 1994, the firm's co-founders with others have sponsored 19 investment vehicles and related co-investment vehicles through Rockpoint and a predecessor firm and have raised approximately $30 billion in equity capital commitments. As of June 30, 2023, Rockpoint's investment team with others has invested or committed to invest in 498 transactions with a total peak capitalization of approximately $80 billion (inclusive of fund equity, co-investor equity and debt). To learn more, visit www.rockpoint.com.
About Rockhill Management
Rockhill Management, L.L.C. ("Rockhill"), an affiliate of Rockpoint, is a dedicated property services management company that serves commercial and residential properties in select markets throughout the United States. Rockhill employs a responsive, tailored approach and the most current technologies to property and relationship management in order to deliver customized service, premium amenities, and intentional communities across Rockpoint's portfolio. As of October 27, 2023, Rockhill provides property management, project management, and other services to properties representing approximately 37.4 million square feet of real estate in markets including the Austin, Greater Boston, New York, San Francisco Bay, South Florida, Southern California, and Washington, D.C. metropolitan areas. To learn more, visit www.rockhillmanagement.com.
About The Cordish Companies
The Cordish Companies' origins date back to 1910 and encompass four generations of privately-held, family ownership. During the past ten decades, The Cordish Companies has grown into a global leader in Gaming; Commercial Real Estate; Entertainment Districts; Sports-Anchored Developments; Hotels; Residential Properties; Restaurants; Coworking Spaces; and Private Equity. One of the largest and most respected developers in the world, The Cordish Companies has been awarded an unprecedented seven Urban Land Institute Awards for Excellence for public-private developments that are of unique significance to the cities in which they are located.  The Cordish Companies has developed and operates highly acclaimed dining, entertainment and hospitality destinations throughout the United States, many falling under The Cordish Companies' Live! Brand, highly regarded as one of the premier entertainment brands in the country. Welcoming over 55 million visitors per year, these developments are among the highest profile dining, entertainment, gaming, hotel and sports-anchored destinations in the country. Over the generations, The Cordish Companies has remained true to the family's core values of quality, entrepreneurial spirit, long-term personal relationships, and integrity. As a testimony to the long-term vision of its family leadership, The Cordish Companies still owns and manages virtually every business it has created. For more information visit www.cordish.com or follow us on Twitter.
"The Cordish Companies," "The Cordish Company" and "Cordish" are trademarks used under license by independent corporations, legal liability companies and partnerships ("Cordish Entities"). Each Cordish Entity is a separate, single-purpose legal entity that is solely responsible for its obligations and liabilities. No common operations or financial interdependency, and no intermingling of assets or liabilities of the Cordish Entities exists, or should be deemed to exist, as a result of the potential common reference to multiple independent entities operating under the names "Cordish," "The Cordish Companies" or "The Cordish Company" here or elsewhere.   
About Caesars Entertainment, Inc.
Caesars Entertainment, Inc. (NASDAQ: CZR) is the largest casino-entertainment company in the U.S. and one of the world's most diversified gaming-entertainment providers. Since its beginning in Reno, Nevada, in 1937, Caesars Entertainment has grown through development of new resorts, expansions and acquisitions. Caesars Entertainment's resorts operate primarily under the Caesars®, Harrah's®, Horseshoe® and Eldorado® brand names. Caesars Entertainment offers diversified amenities and one-of-a-kind destinations, with a focus on building loyalty and value with its guests through a unique combination of impeccable service, operational excellence and technology leadership. Caesars Entertainment is committed to its employees, suppliers, communities and the environment through its PEOPLE PLANET PLAY framework. If you think you or someone you care about may have a gambling problem, call 1-800-522-4700. For more information, please visit www.caesars.com/corporate.
Contacts
Media
For Rockpoint:
Jon Keehner / Sarah Salky / Erik Carlson
Joele Frank, Wilkinson Brimmer Katcher
(212) 355-4449
rockpoint-jf@joelefrank.com